Filmmaker • Professor • Dog Owner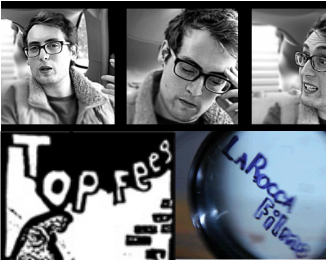 J
oe LaRocca has been making videos since high school. He created a small film team under the name Top Feeg Productions - It was later changed to LaRoccaFilms as Joe's ego got out-of-control. In addition, Joe found it difficult to explain what a Feeg was, a spelling mistake? Once in an important job interview Joe was asked what "Top
Feed
was all about ?" He started laughing. He did not get the position.
Later, he attended Boston College ('05) where he received a BA in Film Studies. During college he participated in many film competitions like the
48 Hour Film Project
and National Film Challenge where he witnessed the magic of showing his work to an audience. During the summers Joe would work as a Teaching Assistant and eventually as an Instructor for the New York Film Academy at Harvard University.
After "living" in New York City for a "year" Joe decided to attend Boston University where he got a MFA in Film Production. Once he completed his thesis short film
One Track Mind
he took up a job as Production Manager at
WinCAM
, a community access television station. In this position he got hands on experience with TV equipment and live shoots, as well as teaching a wide age range of students. Joe is currently teaching Filmmaking I & II at
Boston College
. He is also Head of Videography at
Brunner Communications
. He continues his work on the prolific
Month Movie Series
and is in preproduction on his long awaited follow up to
One Track Mind
, to be completed at some point.
---
News
Tumble weeds

---

Ask Me Anything
Comments and Complaints

Filmography
Personal Film and Video Productions
Red - Month Movie Series Green - 48 Hour Film Project (Boston)

​2018
• Smoke Grenade – Director, Writer, Producer

2017
• October (DSLR) – Director, Writer, DP, Actor, Editor
• Licorice – Assistant Director
• Nazi Law: Legally Blind – Editor

2016
• December (DSLR) – Director, Writer, DP, Actor, Editor
• The Pocket Symphony: The 'Love & Mercy" Recut – Editor
• Nazi Law: Legally Blind – Editor

2015
• August (DSLR) – Director, Writer, DP, Actor, Editor
• No Bad Movies (DSLR) – Director, Writer, DP, Editor
• A Non-Christmas Carol (DSLR) – Director, Writer, DP, Actor, Editor
• The Hobbit: 85 Minute Cut – Editor
• The Young Professor – Actor
• Thomas (C300) – Actor

2014
• September (DSLR) – Director, Writer, DP, Actor, Editor

2013
• June (DSLR) – Director, Writer, DP, Actor, Editor
• Neptune (DSLR) – Additional Footage

2012
• January (DSLR) – Director, Writer, DP, Actor, Editor

2011
• March (DSLR) – Director, Writer, DP, Actor, Editor
• Flying Cars Of Evil (DSLR and After Effects) – Actor

2010
• July (SD) – Director, Writer, DP, Actor, Editor

2009
• Post Grad (SD) – Director, Writer, DP, Editor
• Slowpoke (HD) – Director, Writer, Editor
• One Track Mind (HD) – Director, Writer, Editor
• November (SD) – Director, Writer, DP, Actor, Editor

2008
• Happy Halloween (16mm) -- Director, Writer, DP, Editor
• Very Old Fitzgerald (16mm) -- Director, Writer, DP, Editor
• Slugger (16mm) -- Director, Writer, DP, Editor
• May (SD) -- Director, Writer, DP, Actor, Editor
• I Want You To Know (SD) – Cinematographer
• Tie Land (SD) – Director, Writer, DP, Editor

2007
• February (SD) -- Director, Writer, DP, Actor, Editor
• Happy Halloween (16mm) -- Director, Writer, DP Editor
• Top Feeg's Post-Apocalyptic Christmas Special (SD) -- Director, Writer, DP Editor

2006
• The Tell-Tale Stomach (SD) -- Director, Writer, DP, Editor
• Kickin' It (SD) -- Director, Writer, DP, Actor, Editor
• Magic Item (SD) -- Cinematographer
• Paul's Box (SD) -- Director, Writer, DP, Editor

2005
• After June (HD) -- Art Department, PA
• Withering Heights (SD) -- Director, Co-writer, DP, Editor
• Expletives Deleted (SD) -- Director, Writer, DP, Editor
• Black Horse Terrace (SD) -- Director, Writer, Editor

2004
• La Bella Torta (SD) -- Director, Co-writer, DP, Editor
• My Dad Was A Banker (8mm) -- Director, Writer, DP, Editor
• Who's Walking Who? (SD) -- Director, Co-writer, DP, Editor
• The Ham Sandwich (SD) – Director, Co-writer, Actor
• Herald (SD) -- DP, Sound Editor

2003
• Ok Darwin (SD) -- Director, Writer, DP, Editor
• Straight Up Berlin (SD) -- Director, Co-writer, DP, Editor

2002
• England Spring Break (SD) -- Director, Writer, DP, Editor
• Flush! (SD) -- Director, Writer, DP, Editor

2001
• Italy Senior Trip (SD) -- Director, Writer, DP, Editor
• Shakedown in Alphabet City (SD) -- Director, Writer, DP, Editor
• Civic Responsibility (SD) -- Director, Writer, DP, Editor
• DeNiro Montage (SD) -- Editor
• F* the Police (SD) -- Director, DP, Editor

2000
• Wet Cement (SD) -- Director, Writer, DP, Editor
• Intended Mistake (SD) -- Director, Writer, DP, Editor
• Laundry Day (SD) -- Director, Writer, DP, Editor
• Film Music Montage Two (SD) -- Editor

1999
• A Horror Movie (SD) -- Director, Writer, DP, Editor
• Film Music Montage One (SD) -- Editor

---